CRUSH IT With Simple Video Pro!
Pre-Launch Begins Sunday August 11th, 2012
Launch Date: Tuesday, August 21, 2012
Plus Make More With
TONS of Cash Prizes Up For Grabs!
Video Is Where It's At!

We've all seen a number of video players come and go, and they all lack one thing or another; yet, they still sell well…
But now Simple Video Pro is poised to CRUSH IT! Why? Because…

Simple Video Pro is more than JUST a Video "Player"
It's a "Video Marketing Platform"
  …. all the things people say they wish they had are here – just check out the benefits list at the bottom of this page!
Seriously, a puppy with a note in his mouth could sell this! You – Will – Do – Awesome!  
Simple Video Pro is proven with over 1,400 installs as a part of the All-in-One Viral Toolkit WSO
(now closed and re-named "FanBuzz Enterprise").
We decided to break it out and offer it as a stand alone Video Marketing Platform plug-in for WordPress to reach a wider market.

---
EPC? BIG!
Facebook is a smaller market than video – yet, look what some of the JVs achieved on Nick's previous WSO:
---
---
---
The Market For Video is Much, Much Larger:
So We Expect The EPCs on Simple Video Pro Will Be MUCH HIGHER!
 
Since the first launch, we've been honing this thing, improving it, refining it, and adding a ton of user requested features!

This is a QUALITY product your list will thank you for!
This is your opportunity to make some big cash and win some killer cash prizes!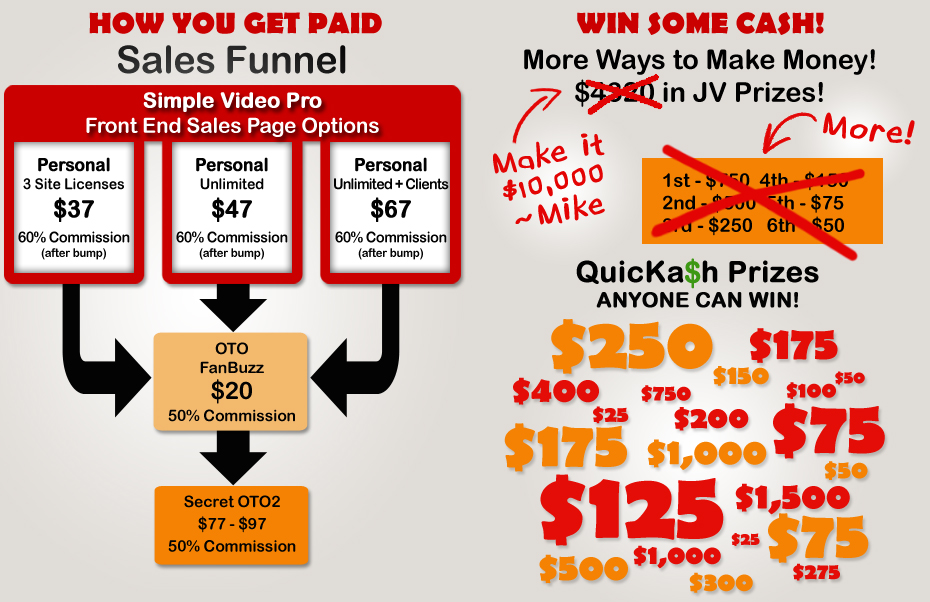 ---

What Kind of Benefits Will My List Get? – A LOT!
Allow Affiliates to Embed Videos On Their Site with their own affiliate links in the video to sell YOUR products!

The logo, banner ad, end splash image AND the Viral Like & Tweet buttons will ALL use the Affiliate's Link! It is so EASY!

Allow Visitors to Embed Your Video (even YouTube videos through your SVP) with all the logos, ads, buy buttons, etc. in tact!
Brand videos with a Clickable Watermark Logo and drive traffic to your money sites or to affiliate offers to make cash
Perfectly Time an HTML Overlay or Opt-in Form Overlay that will pause the video until the user clicks a submit button!
Perfectly Time a Clickable Banner Ad to show up and vanish on queue (if you like) to get attention and send people to your offers!
Perfectly Time a Working PayPal Buy Button – right inside the video! – to make sales of your products right from the video!
Monetize the End-Splash Image as an affiliate link or as a big PayPal Buy Button!
Create attention grabbing beginning Splash Images to engage people to play and watch you videos.
OWN YouTube by Setting Start & Stop Points for any embeddable video! Add your logo and position it where you want. 😉
Snag people and Redirect Viewers to Any Site You Wish after the video ends!
Perfectly Time the Reveal of Content, download links, opt-in forms, buy buttons, or even other videos to keep visitors engaged and get them to take action!
Drive viral traffic and improve rankings to your YouTube videos using the Pinterest Pin-it Button – just check a box!
Drive viral traffic to your video page using the Facebook Like Button!

Use self hosted videos, Amazon S3 hosted videos or YouTube videos!

Videos play on Mobile Devices – Including the iPhone and iPad!
And the OTO offers even more!! I'll update that list later! 
If you didn't sign up in the video, remember to sign up below to get your bump code!